Your First Appointment with Richard Hamon - a Lexington, Kentucky Therapist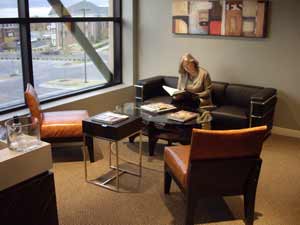 Welcome to your first appointment with my therapy practice. I want you to find your time in counseling to be extremely helpful and useful. I intend to work in a way that will enable you to feel understood and valued. And I will do everything in my power to ensure that you have a good experience.
In my view, counseling is a series of therapeutic conversations in which you and I discuss your life situation and discover possibilities for change leading to a more fulfilling life. You may be in emotional pain, dealing with some type of confusion or going through a difficult time. We'll work together to bring about a desirable outcome, and to help you cope with your problems, suffering or loss. I have 40 years of therapy experience with children and adults, and will put my experience to work for you.
As a therapist, my goal is to help you develop a dynamic understanding of your problems, create long-lasting change, and unleash your potential for achieving new levels of happiness and contentment. Discovering new-found purpose and meaning is often a byproduct of therapy. Whatever your interests and goals, we'll design an approach fitted to your specific needs. I adhere to a strength-based model for working with individuals, couples and families, and believe in making the therapeutic journey a cheerful and enjoyable one – we'll have some fun along the way! I'll help you to regain a positive energy, and uncover hidden strengths and possibilities so you can meet the challenges of life in a powerful, upbeat fashion.
I work with most kinds of problems, and assist clients in dealing with relationship distress, depression, anxiety, loss and grief, trauma, stress, attention deficit disorders, and more.  Please call your insurance carrier and ask if they require pre-authorization, then give us your current insurance information when you come in and we'll take it from there.
Couples Therapy 
Typically couples therapy can be very trying emotionally and require a prolonged time commitment, but I use a form of BRIEF solution-focused couples therapy that you will both enjoy and find effective. Based upon my 40 years of experience and extensive training in relational therapies, I have put together a unique, fast-paced program that I will adapt to your unique situation . . a program designed to produce lasting change.
For your first appointment please print and fill out the forms below and be sure to tell me in the space provided what brings you to counseling and what you hope to accomplish in our time together. Bring the completed forms in your registration packet to your first session, feel free to mail them to me or fill them out when you come in. Thank you for your time and effort . . . I look forward to seeing you on your first appointment.
Sincerely,
Richard Hamon, LMFT
---
If you can't do therapy...try these alternatives:
Your mental health is very important, and so are your relationships, so it's wise to deal with any issues you're having in a responsible way. If you need help, get the help you need. It's part of providing good quality self-care. You'll benefit in many ways. 
1. You may be interested in our many free articles on mental health topics and relationships. You're sure to find something helpful in our articles and past newsletter issues.
2. If you want information on personal or relationship coaching services, please send Richard an email and ask for details.
3. Go to our E-store to find products to help you save your relationship, find authentic happiness, learn about Near Death Experience insights and improve your health and well-being. Click here for the E-store.
4. Join our free eZine to receive regular information to help you succeed in your relationships and find success in that which matters most.

---
---
The Hamon Group, LLC 
2720 Old Rosebud Road
Suite 280
Lexington, KY 40509-8003
Email: coach@happy-relationships.com
Telephone: 859-749-3440
 
---
Go back to Home Page from First Appointment